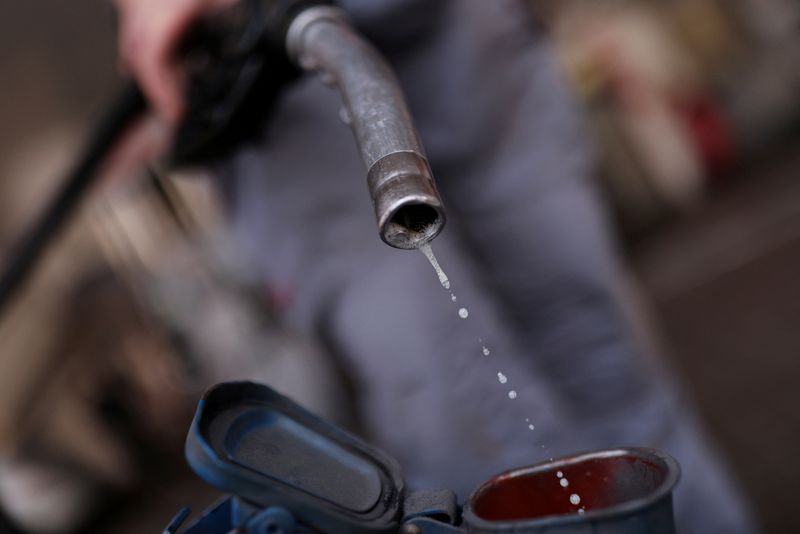 © Reuters. FILE PHOTO: A worker pumps petrol for a customer at a petrol station in Barcelona, Spain, February 4, 2022. REUTERS/Nacho Doce/File Photo
By Natalie Grover
LONDON (Reuters) -Oil benchmark Brent edged lower on Wednesday as concern over a global economic slowdown overshadowed supply cuts announced this week by top crude exporters Saudi Arabia and Russia.
was down 16 cents, or 0.2%, at $76.09 a barrel by 1045 GMT after falling more than $1 earlier in the session. The benchmark closed with a $1.60 gain on Tuesday.
U.S. West Texas Intermediate crude traded at $71.22, up $1.43, or 2.05%, from Monday's close.
Given there was no settlement on Tuesday because of the Independence Day holiday, trade on Wednesday appeared to narrow the spread between the benchmarks, with WTI catching up with Brent's gains the previous day.
"These measures are designed to push oil prices higher, but currently they are being pulled down by macroeconomic anxiety," PVM analyst Tamas Varga said of the price impact from the supply cuts.
"Some would argue that the latest decision to supply less oil to the market is actually bearish because it can be viewed as an admission that demand is struggling to grow at a healthy clip due to global economic headwinds."
Recent surveys have shown a slump in global factory activity, reflecting sluggish demand in China and Europe.
China's services activity in June expanded at the slowest pace in five months while euro zone business activity slipped into contractionary territory last month in a broad-based downturn across the bloc's dominant services sector.
Market attention is also focused on interest rates, with U.S. and European central banks expected to increase rates further to address stubbornly high inflation.
Saudi Arabia, the world's biggest crude exporter, on Monday said it would extend its voluntary output cut of 1 million barrels per day (bpd) to August. Russia and Algeria, meanwhile, are lowering their August output and export levels by 500,000 bpd and 20,000 bpd respectively.
Russia-Saudi oil cooperation is still going strong as part of the OPEC+ alliance, which will do "whatever necessary" to support the market, Saudi energy minister Prince Abdulaziz bin Salman said on Wednesday.
Morgan Stanley (NYSE:) on Wednesday lowered its oil price forecasts, predicting a market surplus in the first half of 2024 with non-OPEC supply growing faster than demand next year.
Seperately, Kazakhstan oil output on July 4 plunged by about a fifth from July 2 levels after widespread power outages. Kazakh crude accounts for about 1.7% of global oil production.