2/2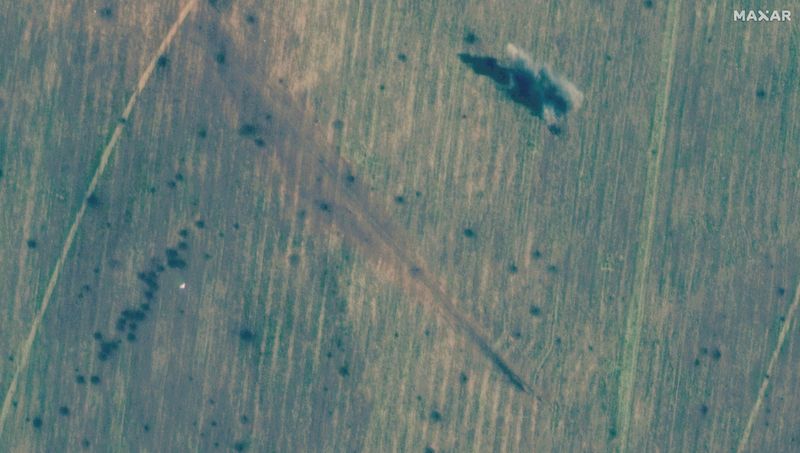 © Reuters. FILE PHOTO: A satellite view shows a closer view of exploding munitions, in Bakhmut, Ukraine, January 3, 2023. Satellite image 2023 Maxar Technologies./Handout via REUTERS
(Reuters) – Ukraine said its troops were holding out against pro-Moscow forces in the eastern salt mining town of Soledar as more than 500 civilians including children were trapped there.
FIGHTING
* The ultra-nationalist contract militia Wagner, run by an ally of Russian President Putin, claims to have taken Soledar after intense fighting that it said had left the town strewn with Ukrainian dead.
* Moscow has held off officially proclaiming victory.
* Ukraine has acknowledged Russian advances and said fighting was still fierce in Soledar.
* A capture of Soledar, which had a pre-war population 10,000, would be Moscow's most substantial gain since a series of retreats throughout much of the second half of 2022.
* Moscow's February invasion of Ukraine, the biggest land war in Europe since World War Two, has resulted in more than 50,000 reports of alleged war crimes, said Ukraine's top war crimes prosecutor Yuriy Belousov.
* The reports of alleged torture by pro-Moscow forces include electric shocks to genitals and other parts of the body, beatings, various forms of suffocation and sexual violence.
MILITARY
* Kremlin-watchers are examining Russia's latest switch of battlefield leadership after Valery Gerasimov, chief of the military's general staff, was unexpectedly given direct command of the invasion.
* Russia could raise the upper age limit for citizens to be conscripted as soon as this spring, a senior lawmaker has said, as part of Moscow's plans to boost the number of Russian troops by 30%.
* The commander of Russian ground forces visited Ukraine's neighbour Belarus to inspect a joint force stationed there.
* For now, northwest Ukraine's border with Belarus is a landscape of burst river banks, thick mud and waterlogged fields, so a Russian assault from there soon seems unlikely.
ECONOMY
* Russian state budget revenue from oil taxes declined in December to 511.7 billion roubles ($7.6 billion), the lowest since March 2021, according to data from the Finance Ministry, following a slide in oil prices.
* Car sales in Russia collapsed by 58.8% in 2022, the Association of European Businesses (AEB) said, as the industry reels from the impact of Western sanctions.