5/5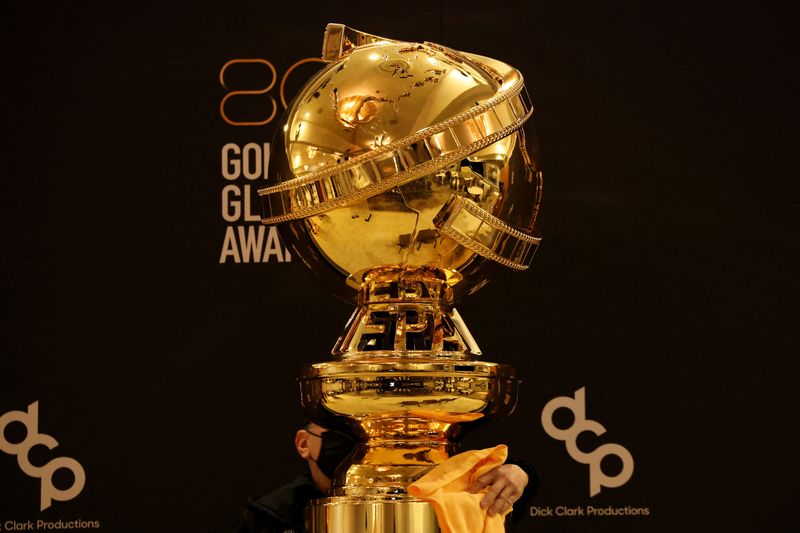 © Reuters. FILE PHOTO: The Annual Golden Globe Awards ceremony will be held on Tuesday in Beverly Hills, California, U.S. Photo taken on December 12, 2022. REUTERS/Mario Anzuoni
By Lisa Richwine and Danielle Broadway
BEVERLY HILLS, Calif. (Reuters) – "Avatar" director James Cameron, actor Jamie Lee Curtis and other celebrities stepped onto a silver carpet on Tuesday at the first Golden Globe awards since a scandal knocked the glitzy Hollywood ceremony off television.
Heavy rain eased to a drizzle just as stars began to arrive at the show in Beverly Hills where the flashy "Elvis" biopic and sci-fi blockbuster "Avatar: The Way of Water" will battle for the top honor of best drama film.
Celebrities and broadcaster NBC abandoned the 2022 Globes because of ethical lapses at the Hollywood Foreign Press Association (HFPA), the group that hands out the awards.
A larger, more diverse membership and other changes by the HFPA persuaded many of the biggest movie and TV stars to support this year's ceremony, which provides publicity for winners and nominees and often boosts their chances at the Oscars.
Organizers chose a silver carpet instead of the traditional red for the Globes' 80th anniversary.
Big names expected to attend included Brad Pitt, Margot Robbie, Viola Davis and "Elvis" star Austin Butler, a favorite for a best actor trophy.
"I think we're going to see 'Elvis' win and Austin Butler win," said Chris Beachum, managing editor of awards website Gold Derby. Golden Globes voters "have proven time and time again that they love spectacles and they love musicals."
The ceremony was set to air live on Comcast (NASDAQ:)'s NBC broadcast channel and stream on Peacock starting at 8 p.m. EST/5 p.m. PT.
"Elvis" is in the running for top drama film against "The Way of Water," the long-awaited "Avatar" sequel that is lighting up movie box offices; Steven Spielberg's coming-of-age film "The Fabelmans" and "Tar," starring Cate Blanchett as a conniving orchestra conductor.
"Top Gun: Maverick" also is in the mix, though the military action film's chances were likely hurt by star Tom Cruise returning his Globe statues in protest in 2021, Beachum said.
Cruise was reacting to a Los Angeles Times investigation that revealed the HFPA had no Black journalists in its ranks and accused members of soliciting favors from celebrities and movie studios. He is not expected to attend Tuesday's show.
"The Banshees of Inisherin," a darkly comic tale set on an Irish island with more nominations than any other movie, is seen as the leading contender for best comedy or musical film.
Comedian Jerrod Carmichael will host the three-hour ceremony, while Eddie Murphy will receive a lifetime achievement honor. Director Quentin Tarantino and Jamie Lee Curtis are listed among presenters.
Actor Sean Penn also will introduce a video message from President Volodymyr Zelenskiy of Ukraine.
In TV categories, "Abbott Elementary" racked up the most nominations and is considered a leader for best comedy.
Roughly 200 journalists and others from the international film industry voted on this year's Globes. Among those voters, nearly 52% are racially and ethnically diverse, including 10% who are Black, according to the HFPA.